Paducah Tilghman Grad Mark Evitts Scores
New Apple TV Series
Frog and Toad are best friends, with slightly different viewpoints. Frog likes new adventures. Toad likes the comforts of home. But despite their contrasting characteristics, their mutual adventures are simply not complete without a backdrop of tunes that illuminate not only their personalities but their happy travails as two travelers on the road of LIFE.
Those songs and tunes are aptly provided by Paducah native, Tilghman grad, composer, and musician Mark Evitts.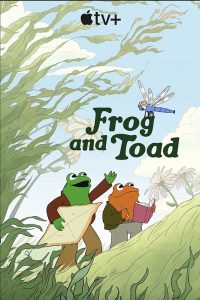 Based on the beloved books by Arnold Lobel, Frog and Toad is a new Apple TV+ animated series. And the uplifting, zippy little scores that provide the accompaniment to the two amphibians' storylines have been created by the talented composer and performer Mark Evitts.
For years now Mark has stamped an indelible imprint on Nashville with his ingenious instrumental creativity and his ability to make big sound come from a small studio nestled in historic Franklin. Having toured as a fiddle, mandolin, guitar, and piano player with such artists as Rodney Atkins, Jimmy Wayne, Dillon Hodges, Bo Bice and others, Mark became one of the foremost session string arranger/violinists around town.
But it was the work with Rodney Atkins that really propelled Mark into a different stratosphere of music-making. "I started making so many contacts through that volume of work with Rodney that I began getting calls from a wide range of music producers for everything from a tour with Brooks and Dunn and ZZ Top to working on some films and TV shows," he says.
So, Mark started pitching his prowess to potential film and TV contacts and pretty soon there came a reply. "These people didn't know where I was. I'm sure many just figured I was in LA,'" he surmises. "So, when I got a call from Alex Geringas asking if I could meet for coffee, I just said, sure, like I was down the street!"
Mark booked a flight, strolled into the coffee shop, picked up his mug, and began a conversation which would take him to heights of composition he had never dreamed of.
"I knew from the beginning what I was looking for," Mark explains. "As a young musician in Paducah, I had many times heard Dr. Ted Borodofsky's Dixieland band and I knew that should be a part of the mix." Ted is a long-time local musician and a retired ophthalmologist. "I wanted these pieces to be a blend of everything I know in my heart—where I'm from, what I know. Essentially, I think of it as a Paducah sound. It's a hybrid of bluegrass, Dixieland, folk, jazz, riverboat— it's kind of a cauldron of everything Paducah is to music."
And now the "sound" of Paducah is the very essence of the bouncy, bucolic scripts being performed by a host of well-known Hollywood actors.
"This has been the best gig of my life," says Mark. "It's been an incredible experience. I'm working with some of the best animators in the industry and some of the most talented people in this business."
"I just want to tell stories with my music and my song writing," Mark explains. "I think the time has come that I can now acknowledge that this is what I'm supposed to be doing."