Associate Editor J.T. Crawford and his wife Wendy get a lot of questions about "roughing it" in the backwoods of Land Between the Lakes. So we asked him to give us the lowdown on some of the hows and whys of their wilderness camping adventures.
The cerulean expanse of the west Kentucky sky dissolved into gold as the sun took its final bow for the day and slipped below the tree line on the opposite shore of the lake. The earth's currency of colors was on full display as I gathered driftwood and assembled a campfire for the evening.
Columns of clouds that had marched in neat, white rows all afternoon were now taking on hues of purple as they relaxed into the sky. The majesty of the heavens above reflected into the waters of the lake below as the world kicked off its shoes and began to settle in for a peaceful night's rest.
This is just one of many magical moments Wendy and I have experienced camping along the shore of Kentucky Lake. We have a history of exploring Land Between the Lakes, especially by kayak. We often row out on a hot, summer day to eventually find a piece of secluded shoreline where we could sit, have lunch, and swim. In an effort to "get away from it all," we truly find places of peace, disconnecting both physically and mentally from the dominant aspects of life that wear and tear on our daily lives.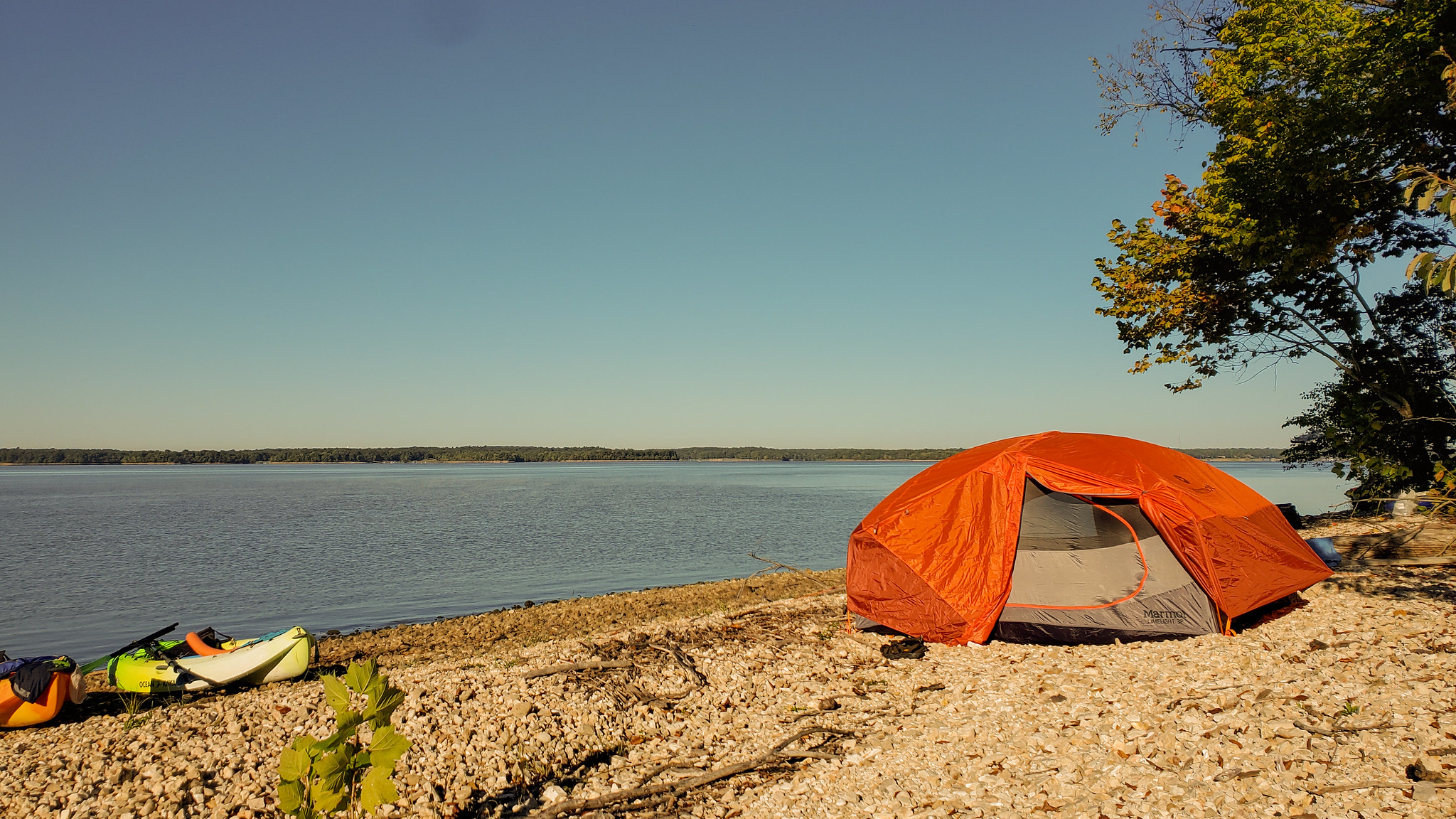 The only problem with our trips in the early days of our exploration was that we had to pack up and paddle back to our point of origin before dark. What a buzzkill! Sometimes, just when the day was at its zenith, we had to think about leaving. The thought started to cross our mind—we could just sleep there. Now I know some of you adventurous types are like, hey, no big deal! Just throw something out on the ground and sleep! But I'm pretty sure most of you are like us. We asked ourselves, how do you sleep on a rocky shore? What about the bathroom? What about animals? What about food and water? And a hundred other questions.
Most of those questions went unanswered until 2020 when, in the midst of the pandemic, we found ourselves with time to ponder such a trip. We thought through an overnight stay, listing the things we would need as the day and night and next morning progressed. Seeing that we are king and queen of the dry run, we gathered everything together, laid it out in the driveway, and proceeded to strap it all to our kayaks to make sure it all fit in our dry bags and then on the vessels. It did!
The tent would be on a rocky surface, so we bought a couple of ultra-thin inflatable mattresses. They rolled up so small that we seriously doubted their efficacy in providing comfort. They would only be a couple of inches at most when inflated. We packed a couple of coolers with water and prepared food that could be heated up on a campfire. The campfire would be made with driftwood and limbs found around the shore. We already had a couple of low-profile, folding camping chairs. It is amazing how many space-saving products are available for those exploring the outdoors. We got a portable battery charger for our phones, and with a few other odds and ends, headed out for a new adventure. Plus, we thought, if we don't like it, it's just one night.
We launched out and kayaked about an hour away. Long story short, the trip was a success with the exception of having to leave a bit early the next morning due to a line of storms coming in. I'd like to think of ourselves as ultra-planners, but in all our focus on how to kayak camp, I'd neglected a major piece of information—the weather forecast. But we managed to miss the storms and head home to plan another trip.
We decided to make some adjustments over time. We initially used an old tent I had, one that was not really meant for portability via kayak. So we invested in a lighter option. And most recently, we've graduated to hammock sleeping. Secondly, while prepping food as much as possible in advance and cooking it over a campfire was tasty, hauling it out there with the needed ice was a bit laborious. So we got some freeze-dried meals. You might have seen them at Walmart or in a sporting goods store. Mountain House Adventure Meals is a popular one. All you do is add hot water. And they are incredibly good. The food is simple and, because it is freeze-dried, devoid of a ton of preservatives. The biscuits and gravy became a fast favorite. We lightened our load and space with those as it eliminated weight, cooler space, and the need for as much ice. We also invested in a couple of small butane tanks with a burner. With a metal cup atop, we could heat water much faster than trying to do it in a campfire, especially when we got up in the morning and wanted coffee quickly.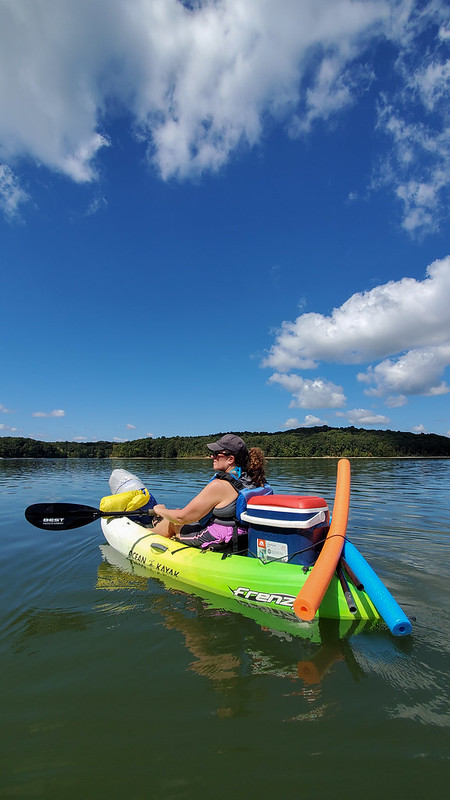 The biggie—and this is where we lose some folks—is lightening the load when it comes to water. It is our most basic and biggest need. And in the summer, we needed a lot of it. On our first trip, we took the number of bottles of water we thought we needed plus extra, and we almost didn't have enough. There is water needed for drinking, cooking, and for cleaning. We humans use a lot of H2O.
We took a look around. We were surrounded by water at the lake. Yes, we knew better than to take big gulps of the stuff, but it seemed like a good resource. I'd heard of water filtration systems such as LifeStraw, but getting on my hands and knees to suck the lake through a straw didn't seem all that appealing. But there are gravity-fed options such as the Platypus where you fill one bag with lake water and it drains into another through a filter. On the first trip out with it, our first order of business was to get a clean bag of water. And we've been using it ever since. And the filtered water is amazingly good to drink.
And ok, let's just answer that elephant in the "woods" question. What about our biological needs? Let's just say there are a lot of woods out there.
So why go to all the trouble? It's a lot of work loading up, kayaking out, setting up, and living like 1800s river rats. But the payoff is disconnecting as much as possible from the stresses of a manmade world in a Kentucky space that has remained as natural as it possibly can. We generally kayak to places that are unencumbered by the progress of people. There are no roads and no structures nearby. The only ways to reach us are either by boat or tons of traversing through the woods. There, we have watched the beauty of the lake unfurl before us. We've enjoyed the vastness of a blue summer sky as we cooled in the waters of the Tennessee River, bald eagles and blue heron occasionally flying overhead. We've experienced some of the most marvelous sunsets we've ever seen. We've sat by the campfire, staring up at a ceiling of stars until the wee hours of the morning, the Milky Way a glittering blanket in a place with some of the least light pollution in our region. We've watched a coyote run along the shoreline as the sun rose, a light steam rising off the lake as fish go after mayflies on the surface of the water before the sun heats the day. Mostly, we've experienced silence from mankind.
It is truly our happy place and a treasure to be experienced. It is far from roughing it. It is soothing. You may not be there yet, not ready to spend a night in the wilderness. But I do encourage you to stoke your sense of adventure and take advantage of the natural world around us. You'll discover a soul-satisfying beauty.