Dr. Lisa Lasher delivered thousands of babies as well as a motivation for her daughter to follow her mother's chosen medical career as an OB/GYN
With a medical mom as a mentor for almost 20 years, it's no surprise that Paducah native Anne Chaney Lasher, M. D., graduated from medical school in May 2023 and matched with Ascension St. Vincent Hospital in Indianapolis to begin her residency in Obstetrics and Gynecology (OB/GYN). Anne admits she always aspired to be a doctor, wanting to mirror her mother, the late Dr. Lisa Chaney Lasher.
"Growing up I was always in and out of the hospital with my mom," Anne reflected. "When I was two, my aunts said I always picked up the phone and said, 'Hello, my name is Dr. Lasher and I'm on call today!'"
The hospital always felt like a second home to Anne. Throughout middle school, she toyed with the idea of being a veterinarian. But in her freshman year of high school, when her mom received a second diagnosis of breast cancer, Anne realized she NEEDED to become a physician. Accompanying her mom to appointments and witnessing the human side of medicine—how compassionate doctors are towards their patients and how much that meant to their families—are the experiences Anne says that led her to medical school. 
Anne graduated from Paducah Tilghman High School in 2015 and graduated from the University of Kentucky in the B.S./M.D. program, where she was a Singletary Scholar and one of seven in her class working with UK's College of Medicine. The medical school helped guide her pre-med journey. "This experience reinforced my values of working with and for the community," Anne said. "We volunteered and worked closely with the Ronald McDonald House, which helped me regain my focus of the human perspective in medicine and remembering your patients are going through something life changing. I always want to remind myself it's not just a career, and you are helping change people's lives. We are fortunate to dedicate our lives to doing that."
Anne took her Medical College Admission Test (MCAT) in her junior year. That very same night, June 2, 2018, Anne's mother, Dr.  Lisa Chaney Lasher, tragically passed away from a heart attack while she slept. "We spent one weekend working on my personal statement and application, and the next weekend I took my MCAT. That night my mom passed away. I think the timing was very special because she saw me get through my MCAT. She had instilled in me that I would be able to complete medical school. I got my acceptance my senior year around my birthday, which was also very special." After graduation, Anne entered UK's College of Medicine.
After applying to medical school, Anne wasn't entirely sure what she wanted to do. But after her mom passed, Anne spoke with many of her mother's patients about their experiences. Many were happy birth stories, but the ones that stuck with her most were the more upsetting ones. "I wish to not only care for women during happy times in their life, but also to be a pillar of stability and comfort for them during tragedy; just like my mother was for her patients, and the ER physicians were to me when she passed."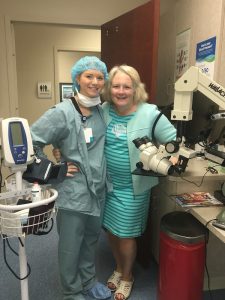 Lisa Lasher is fondly remembered in the Paducah community, especially by those at Lourdes (Mercy) Hospital, where she worked most of her 20 years of practice as an OB/GYN, delivering an estimated 5,000 babies in the Paducah community. The week she died she delivered six infants. Dr. Lasher worked tirelessly as a champion for breast cancer awareness and was a leader in developing women's health services, touching thousands of patients' lives. Anne remembers going with her mother to monthly meetings of the Hopeful Hearts Cancer Support Group, a place women came to talk about what they were dealing with.
"She and Dr. Daniel Howard were instrumental in starting the Women's Center at Lourdes Hospital, which she was very passionate about," Anne stated. "The Center provided care for women including routine mammogram screenings, pap smears—all maintenance things for women—and helped them get access to those services. My mom did lots of other things for women that I don't know how she had time for."
Anne's family is full of physicians. Her mother's brother, Glen Chaney, a Paducah pediatrician at Baptist Health, hooded her on stage during graduation at the University of Kentucky. Glen's wife, Sally Chaney, is also an OB/GYN, now retired. Her mom's sister, Anne's aunt, is married to OB/GYN Dr. Jorge Cardenas of the Paducah Women's Clinic. And two of Anne's cousins, the Doctor Chaneys' children, are in the medical field, one a cardiothoracic surgeon in Lexington, and one a pediatrician in Louisville.
While in medical school, Anne worked on an ovarian cancer screening trial and presented her findings in March 2022 in Phoenix at the annual Society of Gynecological Oncology meeting representing the UK School of Medicine. She collected 30 years of data for this four-year research project and is sending it in for publication where she will be the first author. She has presented at additional national and international conferences, both online and in-person.
Though medical school was challenging, Anne said she was grateful and would do it again despite how tough and grueling it could be. During her third year, she did rotations in every specialty and thought she was leaning toward OB/GYN, even though she swore for years that she never would. She knew she liked surgery and continuity of patient care and was looking for something that could combine the two. "I realized obstetrics and gynecology was a perfect fit for me. You have a close-knit bond with your patients, follow them year to year, and serve as someone they can lean on and turn to throughout their life. You also get to perform surgeries and experience the happiness of delivering babies and bringing life into the world."
Anne recounted one of her favorite memories of her mom. "It was my 20th birthday and I got to scrub in with my mom in a C-section while she delivered twins in the very hospital she had me in! It was the last birthday I spent with her while she was on earth. I will cherish that moment forever!"
Anne credits her dad, Blaine Lasher, as her continued support who helped her through medical school after the loss of her mother. "He is my best friend. He filled the role of my mom in many ways, and especially through traveling— my mom and I had always loved to travel. My dad and I took a free-spirited road trip through Europe a few years ago. We booked a flight to Munich and knew we were leaving from Geneva, Switzerland, but not too much more planning went into it. It was one of the best trips I've ever been on, thanks to my dad's adventurous spirit. We also went to Aruba to celebrate my graduation from medical school and snorkeled for four hours! He's my rock and support person who helped me make it through med school, and even came to clean my apartment one weekend when I was stressed and overwhelmed with school."
Lisa Lasher's three sisters—Rita Cardenas, Anita Harper, and Rebecca Vance—have also supported Anne through her journey, helping move her into her new home in Indianapolis. She also says she couldn't have gotten through this without her stepmother, Jennifer McIntosh, and stepsister, Kate Kimble.
In June 2023, Anne left Lexington for the first time in eight years for her residency in Indianapolis at a Catholic hospital very similar to Lourdes. She is very excited to begin her new adventure for the next four years alongside co-residents who seem like-minded.
Though her future is uncertain, Anne says, "I would love to come back to Paducah. I can't predict the future and you never know what will happen. But if everything works out right…you never know!"